25 Jul 2022
Basement Level Takes Shape for Uic Computer Design Research and Learning Center in Little Italy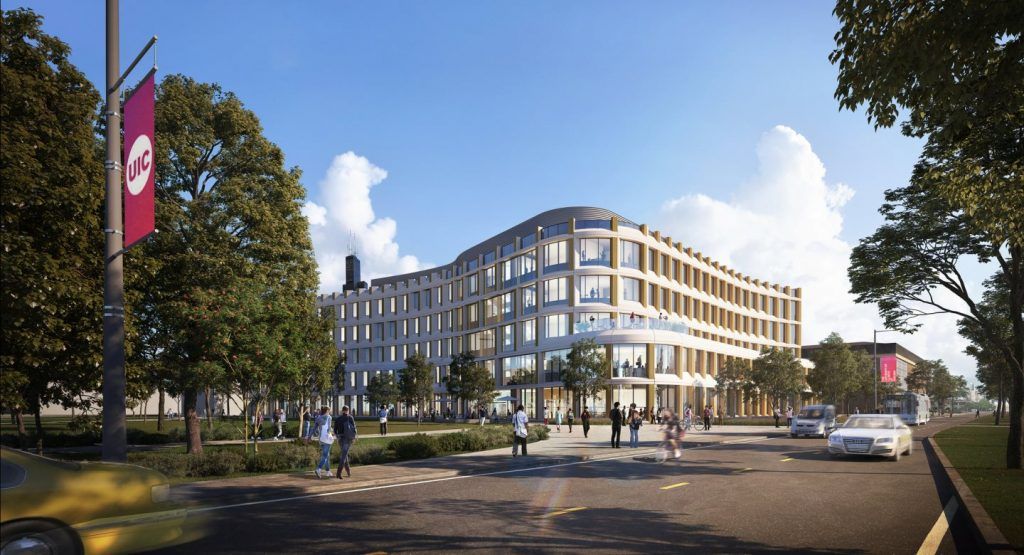 The basement level of the University of Illinois Chicago's new computer science building can be seen taking shape at 900 W Taylor Street in Little Italy. The five-story structure, known as the Computer Design Research and Learning Center, will attach to UIC's existing Science and Engineering Labs building while adding 135,000 square feet of new programming.
When complete, the new computer science building will provide much-needed space for UIC's growing computer science program. The new engineering center will be a state-of-the-art facility for students and faculty. The building will have 16,000 square feet of classrooms, 35 labs, and a student affairs office. There will also be a 1,200-square-foot robotics lab and a large terrace on the third floor. Between the center and the existing building will be a full-height atrium with natural light and easy access to each of the floors.
Designed by Booth Hansen and Seattle-based LMN Architects, the new office building features a curving facade with large recessed windows, precast concrete, metal paneling, and Terracotta accents. The massing is set back at the third level in order to allow for the open-air amenity terrace.
The CTA L Blue Line at UIC-Halsted station is a nine-minute walk away, while bus service for Route 157 is available at the adjacent 900 W Taylor Street stop. There are also additional stops within a five-minute walk for Routes 8 and 12.
W.E. O'Neil Construction Co. has been selected as the general contractor for a $118 million construction project, with Duco Cement Construction serving as the subcontractor for concrete construction. The project is expected to be completed by summer 2023.
Read more on Chicago YIMBY
Chicago Build is the leading construction show for Chicago and the Midwest region. Gain access to 9 specialized summits, 250+ exhibitors, 300+ speakers and connect with 20,000+ registered visitors.