23 Oct 2019
American studio Wheeler Kearns Architects has completed a single-storey residence on a wooden site outside of Chicago which features black facade and large windows that engage the landscape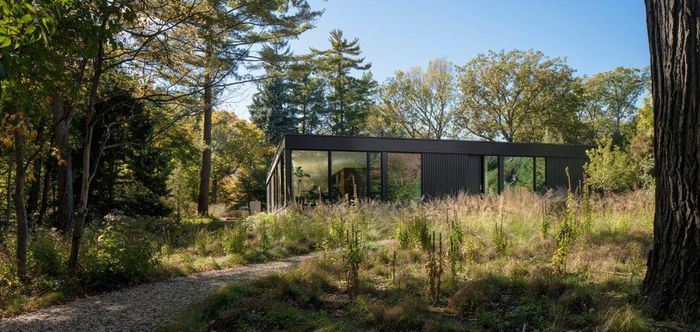 Wheeler Kearns designs low-lying Ravine House for nature lovers in Illinois
American studio Wheeler Kearns Architects has completed a single-storey residence on a wooded site outside of Chicago, featuring black facades and large windows that engage the landscape.
The Ravine House is located in the suburban town of Highland Park, situated about 25 miles (40 kilometres) north of downtown Chicago. The dwelling sits quietly within a forested property, where an older home burned down years ago. A ravine runs through the site.
Designed by Chicago firm Wheeler Kearns Architects, the house was conceived for two empty-nesters who desired a dwelling that embraced the surrounding environment.
"The couple – cyclists, nature enthusiasts, artists – sought to create a modestly scaled, single-floor house that supports their active lifestyle and personal interests while quietly engaging with the ravined site," the studio.
The design team started with a rectangular plan, and then broke off the northwest corner and angled it to form a detached garage.
The area between the garage and house serves as an entry courtyard adorned with local stones, birch trees and clustered plantings.
"The house and garage are intentionally pulled apart to infuse a bit of the wild into daily routines," the studio said.
The home's facades are wrapped in vertical, black metal siding. In the courtyard, walls are clad in black locust timber – the same material used to create a slender column supporting an entry canopy.
The interior of the home features three distinct zones, all linked by wide passageways. One area contains a master suite and painting/spinning studio, while another holds guest bedrooms and an office.
Source: Dezeen
---
Chicago Build is the leading construction show for Chicago and the Midwest. Gain access to 12 specialized summits, 200+ exhibitors, 200+ speakers and connect with 10,000+ registered visitors.