20 May 2019
Affordable housing that doesn't look like the usual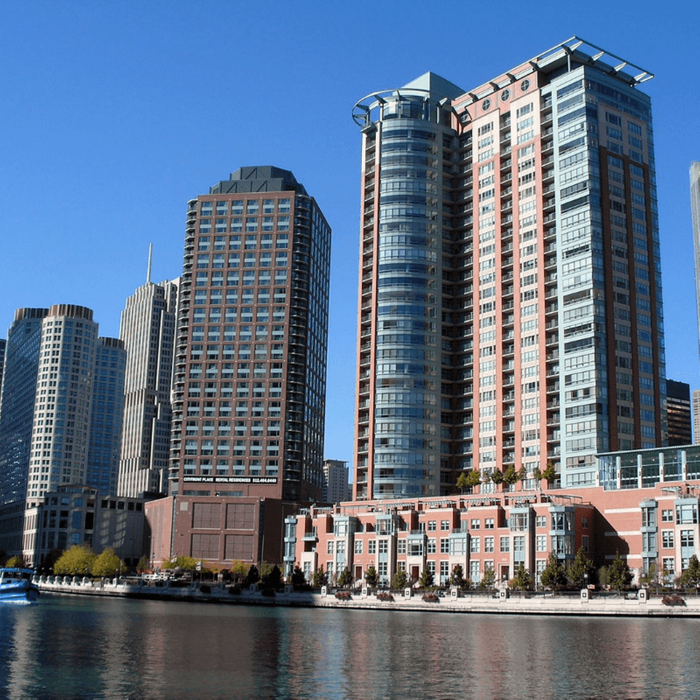 Landon Bone Baker, whose projects have pops of color, modern lines and other details designed to make them inviting to live in and lively additions to neighborhoods, is receiving awards for three of its projects.
In the past three decades, one Chicago architecture firm has designed about 5,000 units of affordable housing in the city.
The firm is proud of the figure, though "it's nothing compared to the number of affordable homes the city needs," said Peter Landon, one of three name principals at Landon Bone Baker. Chicago has a persistent gap of over 150,000 affordable housing units, according to data from the Institute for Housing Studies at DePaul University.
While it may be a drop in the bucket, the firm's portfolio is making a splash. Landon Bone Baker—its other name principals at the 20-person firm are Jeff Bone and Catherine Baker—fills its projects with pops of color, modern lines and other details designed to make them inviting to live in and lively additions to their neighborhoods.
"They're providing housing and other buildings for underserved parts of the city, and they're doing it with more care for their designs than some high-end firms give" the projects they build for affluent clients, said Thomas Beeby, a longtime Chicago architect and architecture professor, now chairman emeritus of Chicago firm HBRA Architects. "Their practice is almost unique in that it's always been socially driven and they have a self-imposed demand for a high-quality design."

Two recent Landon Bone Baker projects, a revived single-room occupancy hotel in Old Town and a mixed-income rental development for the Chicago Housing Authority in East Garfield Park, will both receive first-place prizes for architectural excellence in community design in the Chicago Neighborhood Development Awards. A third project designed by the firm, a mix of new construction and rehabbed foreclosures done in Logan Square for nonprofit IFF and its partner Access Housing, is getting an award for preservation of rental housing. (In that case, IFF is the awardee.)
Beeby is a juror for the awards, a program of the Local Initiatives Support Corp. Chicago, the local piece of a national community development not-for-profit group. Today's awards, the group's 25th annual presentation, also will honor Whole Foods' distribution center in Pullman; a campaign by Southside Together Organizing for Power to get a medical trauma center; Boxville, a Bronzeville street food mall made of old shipping containers; and others.
On the housing side are the three Landon Bone Baker projects and St. Edmund's Oasis, 58 new rental apartments and townhouses in Washington Park, designed by Johnson & Lee Architects.
Here's a look at Landon Bone Baker's trio of projects receiving awards.
City Gardens is 76 units designed in a circle-the-wagons group of seven three-story buildings that surround an interior courtyard on the former site of the CHA's Maplewood Courts. The courtyard has parking, garden plots, a place to cook out and a community building, and the homes have back porches that connect them to it.
Most of the units are occupied by single mothers and their children, Baker said, although the project wasn't intentionally designed with that in mind. It works for them because "it's a place that's safe for their kids to play where they can watch," Landon said.
"It becomes a sub-neighborhood within the neighborhood," Beeby said. "It has this protective, protected space, which the residents appreciate."
Mixed roof lines on the exterior complement the hodgepodge on a traditional Chicago block of homes. City Gardens is one of two Landon Bone Baker projects receiving the first-place Richard H. Driehaus Foundation award for architectural excellence in community design today.
The Carling Hotel, which is also receiving the first-place award, is a four-story structure built in 1927 on LaSalle Street in Old Town. The first single-room occupancy building rehabbed under the city of Chicago's 2014 SRO preservation ordinance, the building went through a $27 million rehab that restored the brick and terra cotta facade and reduced the unit count from 155, with no kitchens and shared corridor baths, to 80, each with its own kitchen and bath.
"The standard of living in this building went up," Bone said. After the rehab was complete in April 2018, some past residents moved back in.
When rehabbing an existing building, "the trick is to respect the history but bring in contemporary touches," Bone said. Terrazzo and new glass walls created a library space beneath an original arched ceiling. Each occupant's room has bright orange door.
"It's a superior piece of architecture again," Beeby said.
IFF Access Housing in Logan Square is a combination of 13 new-construction two- and three-flats and a dozen rehabbed existing homes that were foreclosures. "We went into this neighborhood that has a lot of gentrification pressure and displacement pressure and built Chicago's first new infill houses that are all accessible" by people with disabilities, Landon said.

IFF, a nonprofit real estate consultancy, is receiving the Polk Brothers Affordable Rental Housing Preservation award for this project, where Landon Bone Baker designed both the new buildings and the rehabs.
Initially the group planned to do only new construction and bought some dilapidated foreclosures it would tear down and replace. Instead, the architects "said let's not tear them down, let's rehab," Bone said, so that when the project was complete, "it would keep more of the neighborhood's look intact."
Source: Crain's Chicago Business
---
Chicago Build is the leading construction show for Chicago and the Midwest. Gain access to 12 specialized summits, 200+ exhibitors, 200+ speakers and connect with 10,000+ registered visitors.