30 Aug 2022
Affordable Housing Lottery Will Soon Open for 2614 N Emmett Street in Logan Square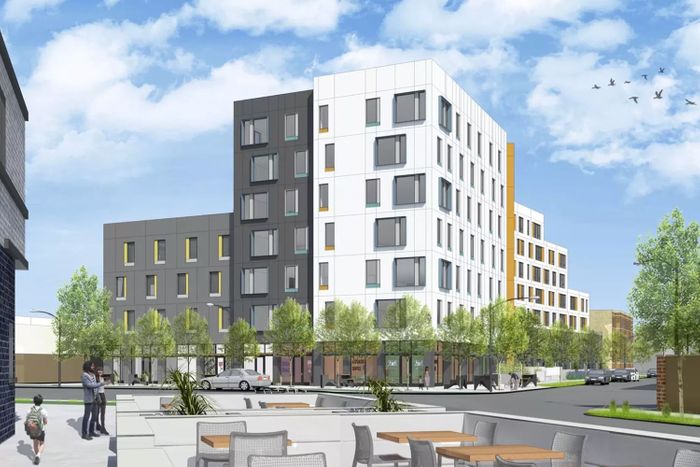 The Chicago Housing Authority has listed details for upcoming affordable apartments in Lucy Gonzalez Parsons Apartments (formerly Emmett Street Apartments) located at 2614 N Emmett Street in Logan Square. The seven-story mixed-use building includes 4,300 square feet of ground-floor retail, and currently offers 41 affordable units, and office space for building management.
The 41 units are available via the application on the Chicago Housing Authority site and will be offered at 80 percent of the area median income (AMI), with an eligible income cap of $58,350 for a household of one. There are 15 standard one-bedroom apartments available, 24 standard two-bedroom apartments, and eight three-bedroom units offered. There are three mobility units offered, one in each of the aforementioned layouts. The building contains an elevator, a community room, on-site laundry facilities, bike parking, and 20 accessory parking spaces.
According to the housing authority site, this project does have a 20-hour work requirement as part of the application process. Per site disclaimers, additional screening measures may include a criminal background check and a credit check as well as a home visit.
The project is next door to the CTA L's Logan Square station, with service for the Blue Line and bus access for Routes 56 and 76. The development is very walkable with many nearby amenities available within a short 10-minute walk.
The building will include water, but other utilities such as gas and electricity will be the responsibility of future tenants. The total rent has not been made public. Applications and waitlist should open soon, however, a timeline is not currently available.
Read more on Chicago YIMBY
Attend Chicago Build Expo, the largest construction, design and real estate show for the Midwest. Gain access to 12 conference tracks and AIA CES approved workshops, check out 250+ exhibitors, learn from 350+ high-profile speakers and connect with 20,000+ built environment professionals.