08 Nov 2019
A tour of Rafael Viñoly's NEMA Chicago: the city's tallest rental building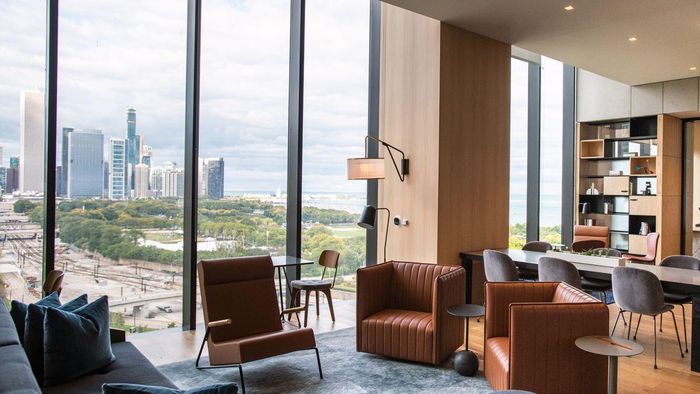 NEMA Chicago, which climbs 896 feet along the south edge of Grant Park, is Chicago's tallest rental building. The 76-story skyscraper designed by Uruguayan-born architect Rafael Viñoly has impressive views and over-the-top amenities that span a massive 70,000 square feet.
Curbed Chicago recently visited the new building to see if NEMA Chicago lives up to lofty expectations.
Most Chicagoans will experience NEMA at a distance from places like Grant Park, the Lakefront Trail, Michigan Avenue, and Lake Shore Drive. From just about every angle, the slender tower is too tall to ignore.
"Buildings are by far much more than just economic equations," explained Viñoly in a video describing the rationale behind his design. "They are there to contribute to the city." Standing next to Grand Park, NEMA Chicago frames the city's symbolic front lawn and strikes a visual balance between its southern and northern skylines.
NEMA looms large over Grant Park's southern border.
Beyond its impressive stature, Viñoly's creation features a hefty dose of Chicago DNA. The New York-based architect says he regards Chicago as "the birthplace of American architecture," and his reverence for the city is apparent. The interior designer and architect, David Rockwell, operates out of New York but is a Chicago native.
As a nod to the structural expressionism that put the Windy City at the forefront of skyscraper design in the 1970s, NEMA is made up of a stack of nine vertical masses terminating at different heights. It's the same basic "bundled tube" configuration that enabled the Willis Tower to become a global icon.
NEMA feels simultaneously new and recognizable. When viewed in the context of the greater skyline, the building's stepped form calls to its dark 1,400-foot cousin without feeling like a gimmicky out-of-town imitator.
The building's tagline hooks into its regional roots: Made in Chicago. The slogan runs more than skin deep, says developer Crescent Heights marketing manager Taylor Maggi.
"We are not a copy and paste developer," explains Maggi. "We look for local inspiration, be it through the architecture or the artwork found throughout the building." The phrase also implies that no two NEMA products in any given city are alike, she adds.
The NEMA name first appeared in San Francisco in 2013 and is attached to a planned development in Boston as well as future projects in Miami and Seattle.
The minimalist lobby has stone floors, a contemporary fireplace, and art.
Enter NEMA's ground floor and you'll find a minimalist, mostly gray lobby plus two separate entrances and elevator banks for its two tiers of residents. Similar to Streeterville's ultra-luxurious One Bennett Park, which provides dedicated entrances for its renters and condo owners. NEMA is rental only, but its units are divided between the building's "Signature" and more expensive "Skyline" collections.
Residents of either have access to NEMA's 14th- and 16th-floor amenity offerings (due to double-height ceilings the tower forgoes floor 15). The sheer amount of communal space is impressive. Every aspect seems supersized, even for such a big building with 800 units.
The 14th floor is dominated by a sprawling fitness center, which includes the only full Olympic sized boxing ring in any Chicago residential building. There's a basketball court, spin room, yoga studio, pilates room, golf simulation with a lounge, squash court and just about every conceivable exercise machine and weights decked out with NEMA branding.
The boxing ring alone is bigger than the gyms in some other buildings.
The fitness center is endless.
There's a spin room, yoga studio, pilates room, basketball court, squash court.
Plus, a golf simulator with an attached lounge area.
A coworking lounge on the 16th floor has nine glass-walled conference rooms, each outfitted with a flat-screen display and Apple TV. The area is one of the building's most attractive communal spaces—in part because of its uninterrupted northern views of Grant Park and skyline beyond. There's also a movie screening room, a kids club, locker rooms, and a dedicated space set up for couples massages.
The 10,000-square-foot outdoor terrace and pool was closed for the season when we visited. But, residents still have access to a 75-foot indoor lap pool which actually extends beyond the tower's southern facade.
If all of that isn't enough, NEMA offers another lounge space with a pool table, fireplace, and kitchen. There's a 21-and-over sports bar, the Station, a nod to the South Loop's demolished Grand Central Station terminal. It features a wall of TVs, old school skeeball machines, and a self-serve beer tap (pending a city liquor license approval).
Residents taking advantage of the coworking lounge and the privacy of its meetings rooms.
NEMA's 15th-floor "urban lounge" with pool table, kitchenette, and attached terraces.
The men's locker room has a steam shower and connects to massage room.
"The Station" sports bar. Skeeball anyone?
In addition, there are also unfurnished, flexible spaces that can be used for impromptu events. Plus, residents of the Skyline Collection units get the 48th floor to themselves. It isn't open yet but will have a lounge, terrace, and other perks (any remaining work is expected to wrap up at the end of 2019).
All of this means NEMA has few rivals when it comes to amenities. Tours for prospective tenants often take more than an hour—that's how much there is to see. Is it excessive? Yes, but perhaps that is the point for its luxury renters. Or maybe it will feel less so as the high-rise signs on more tenants and the communal spaces fill up (with the exception of the coworking space which was busy).
NEMA Chicago welcomed its first residents in May, but wouldn't disclose exact leasing figures. The developer did say that the building is leasing up more quickly than they anticipated.
The indoor pool extends beyond the tower's southern facade to hit the 75-foot length the developer wanted.
To help ensure that residents make the most of their new home, there are in-house pilates and yoga instructors, squash and boxing coaches, golf pros, classes, events, and programs. The tower takes on an almost resort-like quality with a 24-hour concierge staff and room service from the building's catering kitchen.
"We pride ourselves on programming," says Maggi. "It's the execution and activation of the amenities that sets us apart."
Every apartment features nine-foot ceilings, wide-plank hardwood floors, caesarstone countertops, and floor-to-ceiling windows dressed with roller shades. Skyline collection residents get an extra foot of headroom, a choice of higher-end materials, and the option for complimentary breakfast every day.
All units have keyless entry and are smart home-ready with an Ecobee thermostat. NEMA even provides a dedicated technology concierge to help residents set up their smart homes.
The real standout, at least in the corner Signature collection model unit, is the incredible views across the park to the north and the lakefront and Soldier Field to the East. It only gets more spectacular up on the Skyline floor.
The model unit in the Signature Collection includes a stone kitchen island and sleek cabinets with integrated lighting.
Select units feature inset balconies.
The stratospheric rents at NEMA start at $1,921 for a studio, $2,212 for a one-bedroom, $3,460 for a two-bedroom, and $7,158 for a three-bedroom, according to the developer. Prices quickly climb for the building's higher-floor units, especially penthouse residences with access to the large private terraces that sit atop some of the tower's upper-level setbacks. In April, Crain's reported that one apartment was asking as much as $25,000 per month.
Looking to the future, the developer is considering a second, even taller building on the vacant parcel to NEMA's immediate west. It has zoning approval to build a total of 1,540 of residential units across the two South Loop sites, but no plans to break ground on phase two anytime soon.
Source: Curbed Chicago
---
Chicago Build is the leading construction show for Chicago and the Midwest. Gain access to 12 specialized summits, 200+ exhibitors, 200+ speakers and connect with 10,000+ registered visitors.