20 Jun 2019
A million square feet of new buildings on the drawing boards for Fulton Market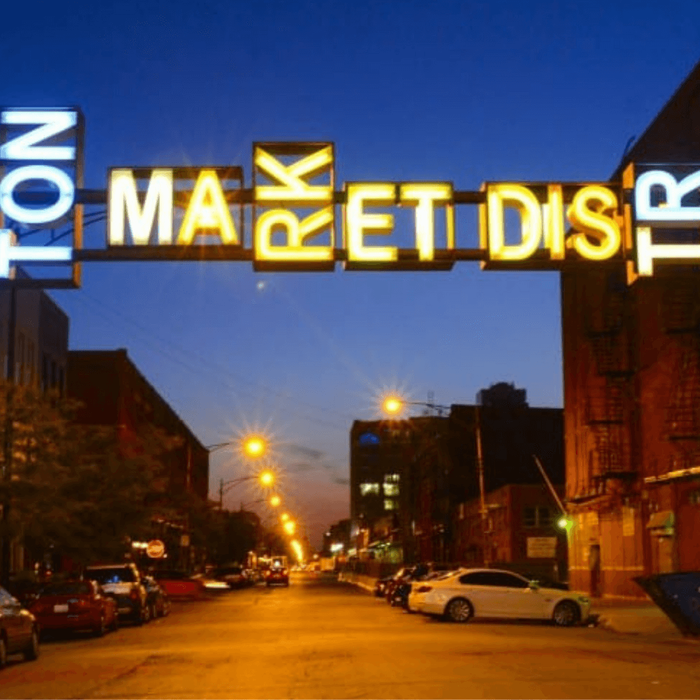 A pair of local tech-focused companies and a Chicago real estate firm want to board the Fulton Market development train with a trio of buildings totaling nearly 1 million square feet.
In one of two proposals presented this month to West Loop residents, tech company accelerator TechNexus and intellectual property firm Ocean Tomo plan to team up on an 18-story, 535,000-square-foot office building they would partly occupy themselves along with other tenants at 1111 W. Carroll Ave.

In a separate plan, Chicago-based LG Development unveiled a proposal this week for two buildings stretching from Aberdeen to May streets between Fulton Market and Lake Street, where it is angling to build a 21-story office building and an adjacent 17-story hotel, with the two totaling 440,000 square feet.
The plans pile onto the heap of projects in the works in Fulton Market, where soaring rents and property values are luring a deluge of real estate developers and investors that want a piece of the corridor as it transitions from meatpacking district to trendy destination of corporate giants like Google and McDonald's and upscale hotels and restaurants.

Rampant demand for office space downtown—especially in Fulton Market—has spurred a flurry of buildings proposed and under construction in the neighborhood, and most properties have had no trouble landing tenants.
Hotel development has followed suit, targeting both leisure and business travelers. The 182-room Hoxton Hotel recently opened, and the 119-room Nobu Hotel is slated to debut later this year.
The projects also underscore new standards for building heights in an area historically defined by low-slung industrial properties. But it remains to be seen whether Mayor Lori Lightfoot's administration—which says it will prioritize tilting the scales of downtown economic development toward underserved neighborhoods—and new leadership in the City Council will approve zoning for the plans.
The Carroll Street building, dubbed the City Technology Center, would be a hub for "tech people coming together to collaborate in a space purposely built so they can create, innovate and implement new technologies," the developers' zoning lawyer, Michael Ezgur, said at a June 5 meeting of the West Loop Community Organization, a neighborhood group that evaluates development proposals. "And they can do this, not in their own silos, but with other companies in the tech space."
TechNexus and Ocean Tomo would work with Chicago-based Cogent Management Group to develop the proposed building along Carroll between Aberdeen and May and also occupy the space, Ezgur said. TechNexus today leases about 50,000 square feet at 20 N. Wacker Drive, and Ocean Tomo's Chicago office is at 200 W. Madison St., where it leases about 36,000 square feet.
Ezgur likened the building to a tech-focused version of the Industrial Council of Nearwest Chicago, a nonprofit group that leases most of its 416,000-square-foot industrial space along the 2000 West block of Fulton Street to a mix of light manufacturing businesses.
"This is the same thing for the new age and new technologies," Ezgur said, adding that the building would be 75 percent full when it opens.

The proposed building includes 5,500 square feet of ground-floor retail and 282 parking spaces, Ezgur said. In exchange for increasing the density allowed on the site, the developers would contribute more than $4.6 million into the city's Neighborhood Opportunity Fund, which provides grants to businesses in low-income neighborhoods.
TechNexus founder and General Partner Fred Hoch declined to discuss details of the building plan, noting the project is still "not fully baked."
Ald. Walter Burnett, 27th, who attended the June 5 meeting, praised the developers for making tweaks to the building design from a previous version they had presented to the community. But while approval for the development might have been a slam-dunk under Mayor Rahm Emanuel, he said, it's unclear how it will be viewed by the new administration.
"I don't know what I'm working with down at City Hall," he said.
The CTC would be developed on property owned by the Comforte family, which has had it since 1960, according to Ezgur. A potential sale price for the site is unclear, but if the project moves ahead, the family would likely join a list of longtime Fulton Market industrial land owners that have cashed out on their properties at high prices to land-hungry developers.

One block south of the proposed CTC building, LG's two-building development would run in an L shape from the corner of Lake and Aberdeen streets to mid-block along May Street, just north of the CTA tracks.
The office building at 210 N. Aberdeen St. would be on a vacant parcel running from the tracks north to the longtime facility of stainless steel manufacturer Arthur Harris, a historically significant building that LG would renovate and restore, according to Ezgur, who is also representing LG.
The Harris property would be turned into a 5,000-square-foot food hall that doubles as an "open area thoroughfare" to the 187-room hotel, which would rise on a site developed now with a vacant industrial building at 215 N. May St., Ezgur told West Loop residents at a June 17 WLCO meeting.
The hotel would be a joint venture with a high-end "international brand-name hotel," Ezgur said, though LG spokesmen declined to disclose the hotel operator.
A source familiar with the developer's plans said the hotel would likely be the first Chicago location for New York-based Dream Hotel Group, which operates upper upscale hotels in New York, Miami, Hollywood and Nashville, as well as several international markets, according to its website.
Dream Hotels spokeswoman Katie Fontana would not confirm any specific plans but said the company is scouting several locations in Chicago and that "Fulton Market is a neighborhood we want to be in."
The project would include 54 parking spaces and the developer would contribute $3.8 million to the Neighborhood Opportunity Fund in exchange for a higher density allowance.
Source: Chicago Business
---
Chicago Build is the leading construction show for Chicago and the Midwest. Gain access to 12 specialized summits, 200+ exhibitors, 200+ speakers and connect with 10,000+ registered visitors.