04 Nov 2019
$4.6b rebuild of South Side railroads, viaducts being used to teach students science and math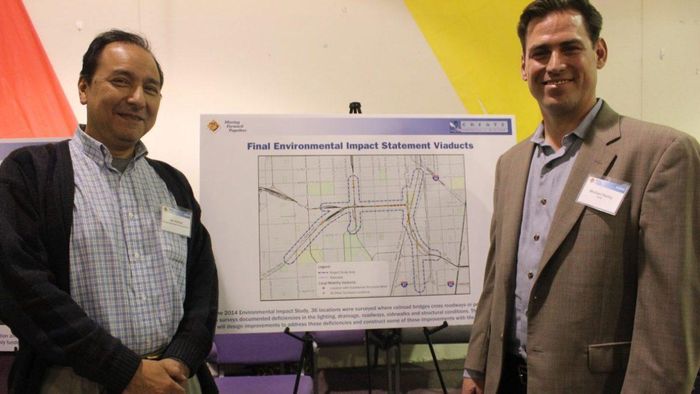 The 75th Street Corridor Improvement project will rebuild 36 viaducts and repair other infrastructure in Englewood, Chatham, Auburn Gresham and Ashburn.
ENGLEWOOD — The ongoing, massive rebuild of a network of railways and their crumbling viaducts and infrastructure in the Englewood area is providing a chance to give students in the area real world science and technology lessons.
At an open house this week, officials talked about the $4.6 billion project, where it stands, where it's going and how neighborhood students can learn from the experts working on the rebuild.
Project leaders are using the work as a chance to bolster STEM education and outreach. The groups involved are working on programming to teach lessons in transportation, engineering and construction at local schools and libraries.
Wednesday's open house for the 75th Street Corridor Improvement Project was held at Freedom Temple Church of God in Christ, 1459 W. 74th Street. Despite the wintry weather, some neighborhood residents turned out, an encouraging sign for organizers.
The 75th Street Corridor Improvement Project is the first public-private partnership of its kind for Chicago Region Environmental and Transportation, or CREATE. The group is a collaboration between the Illinois Department of Transportation, the Cook County Department of Transportation and Highways, the Chicago Department of Transportation and the Association of American Railroads with Amtrak and Metra.
So far, the group has secured $1.6 billion of the $4.6 billion needed to complete the menu of projects aimed at improving roadways and train tracks that stretch across four neighborhoods: Ashburn, Englewood, Auburn Gresham and West Chatham.
The final design phase began this year for the Forest Hill Junction Flyover, the 71st St. Road/Rail Grade Separation, Belt Junction and 80th Street Junction Replacements, Rock Island Connection, and Viaducts and Community Mobility Improvements. All are designed to reduce traffic congestion, ease air pollution and improve quality of life for residents.
Crumbling viaducts have long been an issue of concern for residents in those communities, and part of the project involves improvements to 36 of the 40 viaducts in the area.
Michael Hurley, an environmental planner with HNTB Corporation, which is working on the project, said the funding secured so far is for a stretch of railway between Marquette Road, 71st Street, Damen Avenue and Western Avenue,
"The design of the improvements for all the viaducts will be completed, but right now only this north-south corridor is funded for construction," Hurley said.
A map of future mobility improvement projects, including the Belt Junction, the 80th Street Junction Replacements, and the Rock Island Connection, slated for construction once funding is approved.
So far, $2 million has been earmarked for viaduct construction, but $500 million more will be needed to complete work on other viaducts and railways on the list. Construction is slated to begin in 2022.
STEM education and outreach is another project feature, with CREATE teaming up with neighborhood schools and libraries to develop programming around the Corridor Improvement Project to foster learning in transportation, engineering and construction.
Professionals working on the project will share career insights, host field trips and expose high school students to engineering challenges that typically involve large projects like the Corridor Improvement Project.
Norfolk Southern, a CREATE partner, donated $40,000 to the Chicago Public Library Foundation for programs at Kelly Branch Library and Thurgood Marshall Branch Library in early October.
CREATE Outreach Manager Jakita Trotter was encouraged by the turnout this week, despite the cold and rainy conditions outside.
"We really wanted to make sure the community knew what we were doing, and we want them to let us know what they need," Trotter said.
Trotter and her team knocked on doors, attended community meetings and did a full on media blitz in hopes of packing the room. While they may have fallen a little short of the goal, a steady stream of concerned neighbors trickled in and out of the church's multipurpose room, asking questions of project representatives.
Still, some residents noticed that the crowd was a little older, and wondered if more could have been done to get younger residents in the door.
National Black Agenda Consortium Co-Founder Revin Fellows was in the room when former congressman Jesse Jackson, Jr. and former senator James Meeks, Jr. fought with Metra executives in the early aughts for investments and improvements in railways running through black neighborhoods. He fears that those most affected will be left out of the conversation.
"They could've used the money that went toward this to reach out to the young black men from here — and I don't know, they may have — but it doesn't look like they did a good job," said Fellows, surveying the room.
"They could've cut the ad money in half and gave it to us to get young men who trust us, put them in a car, or a van, and brought them here," said Fellows.
He's also worried about homeowners who may be negatively impacted by the construction and forced out of their homes as a result.
"If Big Mama's house is sitting next to the railroad, what happens to it? It's an old house, she's on fixed income, and now they're about to tear up everything around her to fix the railroad, which is going to cause her more problems," said Fellows. "And there are no provisions for Big Mama to make sure she can keep her home, so now she's out. That can't happen."
"We've been here before. We have to keep fighting for what is rightfully ours."
Source: Block Club Chicago
---
Chicago Build is the leading construction show for Chicago and the Midwest. Gain access to 12 specialized summits, 200+ exhibitors, 200+ speakers and connect with 10,000+ registered visitors.