16 Oct 2022
4600 N. Marine Breaks Ground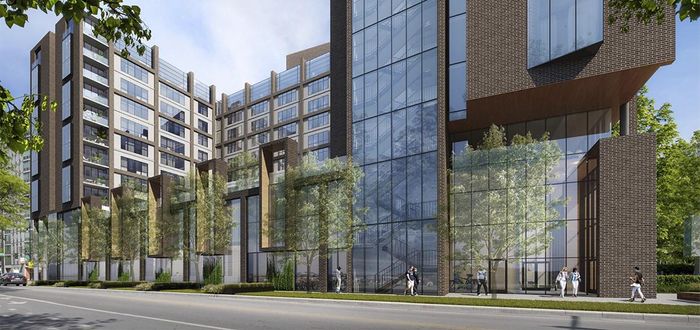 Lincoln Property Company has officially celebrated groundbreaking on their development at 4600 N. Marine. Set to rise on the site of an existing surface parking at Weiss Hospital, the project will overlook the intersection of W. Wilson Ave and N. Marine Dr.
With Valerio Dewalt Train Associates in charge of the design, the entirely residential building will stand 12 stories high. Rising 159 feet, the structure will hold 303 residential units with no retail space and 136 car parking spaces in the podium. Positioned as rental apartments, the units will be broken down into studios, one-beds, and two-beds.
With a U-shaped massing, the courtyard style building sits atop a two-story podium with an amenity roof deck facing south. The residential lobby will front the corner of W. Wilson Ave and N. Marine Drive, with the remainder of the ground floor occupied by parking.
The development will incorporate 8 affordable units at or below 60% AMI per the ARO requirements. To complete the requirements, the developers paid a $3.1 million fee in-lieu which has been directed to the Sarah's on Lakeside development that recently received permits.
With ground broken, Gilbane Building Company can begin work on the site. Permits for the foundation and tower crane have already been issued, with the foundation expected to be completed by the end of the year. According to Alderman Cappleman's newsletter, the overall structure will be completed in Spring 2023, with roofing anticipated for a Summer 2023 completion. The $90 million development is expected to open by Fall 2024.
Read more on URBANIZE Chicago
Attend Chicago Build Expo, the largest construction, design and real estate show for the Midwest. Gain access to 12 conference tracks and AIA CES approved workshops, check out 250+ exhibitors, learn from 350+ high-profile speakers and connect with 20,000+ built environment professionals.