30 Jul 2022
43Green Phase I Celebrates Topping Off Milestone in Bronzeville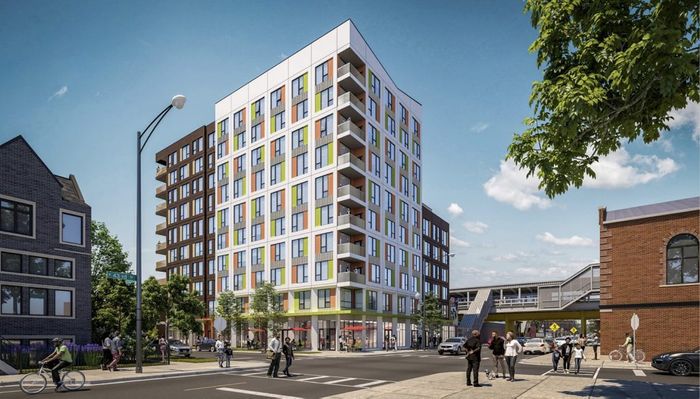 Yesterday, Mayor Lori Lightfoot and other city officials commemorated the topping off of the first equitable transit-oriented development (ETOD) on Chicago's South Side. Located at 4308 S Calumet Avenue, the 10-story building is the first of three phases in a larger $100 million plan known as 43Green. The mixed-use, mixed-income 43Green scheme will ultimately bring around 300 new apartments and a swath of new retail space to the Bronzeville neighborhood. The Habitat Company, a leading U.S. multifamily developer and property manager, is spearheading the project in partnership with P3 Markets, a real estate development firm based in Bronzeville that specializes in public-private partnerships.
The currently-underway Phase I building, the largest of the three, will house 5,500 square feet of retail and 99 residential units that will be distributed into studio, one- and two-bedroom floor plans. The building will be home to half of the apartments reserved for households earning up to 60 percent of the Area Median Income (AMI), while the remaining residences leased at market rate.
Residents will find a range of on-site amenities, including multiple outdoor terraces, a fitness center, and a lobby with various lounge areas. The building will also provide immediate access to a restaurant, cafe, and laundromat.
Landon Bone Baker is the architect for 43Green, having worked on other projects with major affordable housing components, such as Lucy Gonzalez Parsons Apartments in Logan Square and Elm 551 at Parkside of Old Town in Near North Side. The design for 43Green is made up of two volumes, the taller of which reaches 106 feet in height and it has a mix of concrete, brick, and colorful orange and green window trimming. The shorter wing is clad in a masonry and orange accents. There will also be a large mural on the west-facing side of the building, as well as columns of recessed balconies for select units.
During the ceremony, Mayor Lightfoot expressed excitement over the developers' efforts to spearhead this kind of project in Bronzeville. "The City is focused on expanding equitable, transit-oriented development throughout our city to ensure affordable housing options and transportation access is available to our residents," said Lightfoot. "I'm thrilled to see 43 Green become our first ETOD development that will transform and uplift the surrounding community and the Bronzeville neighborhood. I'm grateful to the developers and our partners for both their advocacy of the Connected Communities Ordinance and for this investment in Bronzeville."
The Connected Communities Ordinance was passed on July 20, 2022 in order to create more connected and prospering communities oriented around Chicago's vast public transit options. The ordinance's aim has been to encourage TOD investment in the city's west and south sides, which have seen relatively less compared to the North Side in prior years. As part of the ordinance, TOD incentives were extended more broadly and equitably across the city, including to a standard four-block radius from rail stations and two blocks from additional high-frequency and strategic bus corridors.
"With inflation putting a strain on household budgets, the demand and need for affordable housing, especially near transit lines, has never been higher," said Charlton Hamer, senior vice president of Habitat Affordable Group. "A major differentiator between 43 Green and other recent affordable housing developments is its blend of 50 percent affordable and 50 percent market-rate units. We received strong feedback from area residents that any new market-rate housing should be balanced with a commitment to long-term affordability – in other words, the 'E' in ETOD."
43Green is plugged directly into the transit network via the CTA Green Line and Route 43 bus stops at the adjacent 43rd Station. There are also many Divvy Bike stations close by, as well as open green space adjacently south at Hadiya Pendleton Park. On-site transit accommodations will include 24 parking spaces and 54 bike slots.
43 Green is being led by a minority-owned construction management and general contracting company, Bowa Construction, in partnership with McHugh Construction. Momentum Coffee and Super Cycle, two minority-owned businesses, have also committed to leasing space in the development. The construction of the Phase 1 building is expected to be completed by February 2023, with first move-ins projected for later in the fall. Later phases call for two more mixed-income, mixed-use buildings, with the Phase 2 property anticipated to break ground later this year. Like the first phase, roughly half of the 78 units in Phase 2 will be designated as affordable.
"We are proud to see 43 Green rise as the first equitable transit-oriented development on the city's South Side, bringing much-needed housing and retail to a highly accessible site in Bronzeville," said Matt Fiascone, president of The Habitat Company. "Seeing a project of this magnitude move from concept to reality is a testament to Mayor Lightfoot and her administration's dedication to the city's ETOD initiative, as well as to the work of the many public and private partners involved in bring this transformative project to fruition."
Read more on Chicago YIMBY
Chicago Build is the leading construction show for Chicago and the Midwest region. Gain access to 9 specialized summits, 250+ exhibitors, 300+ speakers and connect with 20,000+ registered visitors.