13 Aug 2022
3817 N. Ashland Scores Full Building Permit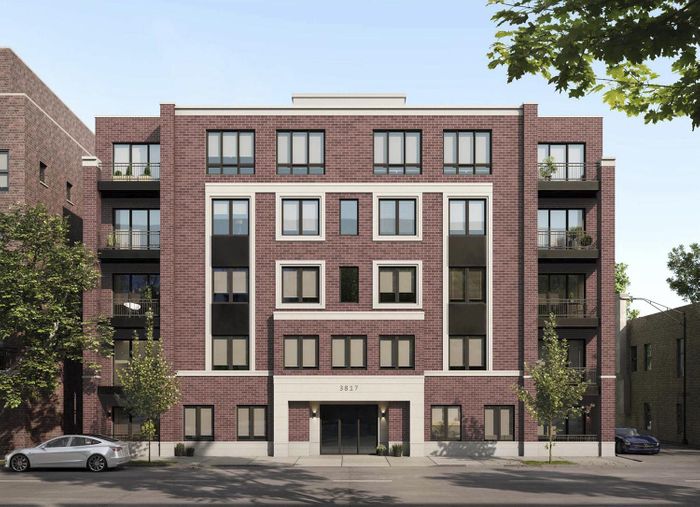 A full building permit has been issued for a new residential development at 3817 N. Ashland. Fronting N. Ashland Ave, the project site is bound by two alleyways. Developer Mavrek Development will demolish an existing one-story restaurant building to clear the way for the new building.
With a design from 360 Design Studio, the new construction will consist of a five story entirely residential building. The masonry clad building will hold 48 units, including 31 one-beds, 13 two-beds, and 4 three-bedroom configurations. Rising 65 feet, the stone and masonry building will set aside 10 of those apartments as affordable, double the five required units.
Parking for 22 cars will be located on the ground floor, accessed from the alley. EV charging stations have been considered by the developer and bike storage will be included for 40 bikes. Pick up and drop off will be located at the residential entry along N. Ashland Ave.
The site was rezoned from B3-2 to B2-3 in May 2021, with variances approved by the Zoning Board of Appeals in August 2021. With demolition permits issued in January and a full building permit in hand, general contractor 4 Corners Construction can move forward with building the project. An official construction timeline has not been announced.
Read more on URBANIZE Chicago
Attend Chicago Build Expo, the largest construction, design and real estate show for the Midwest. Gain access to 12 conference tracks and AIA CES approved workshops, check out 250+ exhibitors, learn from 350+ high-profile speakers and connect with 20,000+ built environment professionals.