09 Oct 2022
210 N. Aberdeen Scores Full Building Permit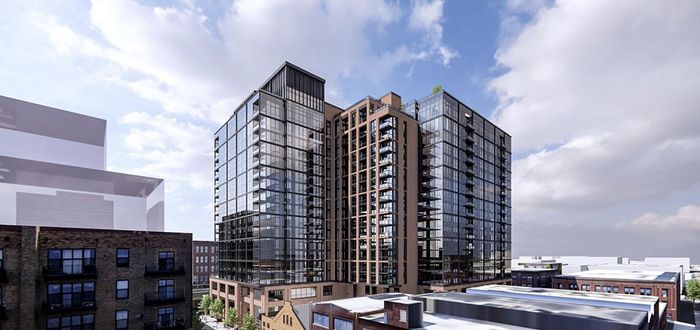 A full building permit has been issued for the mixed-use development at 210 N. Aberdeen. Planned on an irregularly shaped site that reaches to N. May St to the west and down to W. Lake St to the south, the project will see the construction of a new mixed-use tower with the adaptive reuse of the Arthur Harris Building. LG Development Group is leading the development of the site.
With a design from NORR, the new building will stand 19 floors, with a number of small changes made to the building right before construction through a minor change request filed in June. The project will deliver 363 residential units, down from 414, and approximately 10,700 square feet of retail space.
Rising 214 feet, down from 239 feet, the building's unit mix will consist of roughly 50% one-bedrooms, 30% studios, and 20% two bedroom apartments. 98 car parking spaces and 288 bike parking spots will be included.
To meet the 20% affordability requirements, the development will provide 73 affordable apartments on site.
With the full building permit secured, Power Construction can proceed with vertical construction of the $140 million development. The building is expected to wrap up in 2024.
Read more on URBANIZE Chicago
Attend Chicago Build Expo, the largest construction, design and real estate show for the Midwest. Gain access to 12 conference tracks and AIA CES approved workshops, check out 250+ exhibitors, learn from 350+ high-profile speakers and connect with 20,000+ built environment professionals.