17 Oct 2022
$18.7 Million in TIF Approved for 3831 W. Chicago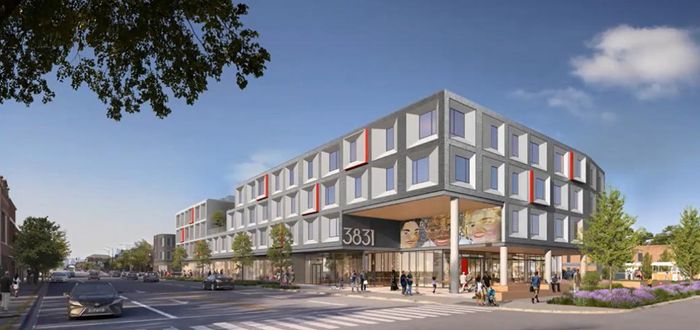 The Community Development Commission has approved $18.7 million in TIF and the sale of city-owned land for 3831 W. Chicago. Planned by 548 Capital, the project will occupy a block long site between N. Avers Ave and N. Springfield Ave. The center portion of the property is currently under the ownership of the developer, while the lots at each intersection are currently city-owned. Two city-owned lots along N. Springfield Ave are also part of the project.
Designed by Lamar Johnson Collaborative, the mixed-use project will rise four floors, holding 60 apartments, with approximately 7,300 square feet of retail space planned for a grocery store and cafe on the ground floor. Located on the top three floors, the units will be split into 19 studios, 21 one-beds, 15 two-beds, and 5 three-beds. With the building planned as a mixed-income project, 6 apartments will be priced at 30% AMI, 42 at 60% AMI, and 12 rented at market-rate.
With community programming on the western end of the ground floor, the space will look out into a covered plaza that sits underneath the building's overhang. The U-shaped building allows for a parking lot along the alley for residents. The facade has been designed with a framed grid of window units distinguished with varying patterns of angled frames. Varying modules protrude and are expressed with colored metal accents.
The $40.8 million development will be financed through multiple funding streams. The capital stack includes a private mortgage of $4 million, a deferred developer fee worth $625,000, $385,000 from a ComEd grant, $1.5 million in LIHTC equity, $4.7 million from an ARO contribution, $2.3 million in Donation Tax Credit equity, and the $18.7 million in requested TIF funding.
With the Community Development Commission's approval of the TIF funding and land sale, the development will continue to move through the approval process. The project will be going before the Chicago Plan Commission later this week to approve the rezoning of the site from C1-1 to B3-2 and an overall Planned Development. Further approvals will be needed from the Committee on Zoning and City Council for the rezoning, while the City Council will also need to approve the TIF funding and land sale.
Read more on URBANIZE Chicago
Attend Chicago Build Expo, the largest construction, design and real estate show for the Midwest. Gain access to 12 conference tracks and AIA CES approved workshops, check out 250+ exhibitors, learn from 350+ high-profile speakers and connect with 20,000+ built environment professionals.