03 Jan 2020
13 Megadevelopments That Will Transform Chicago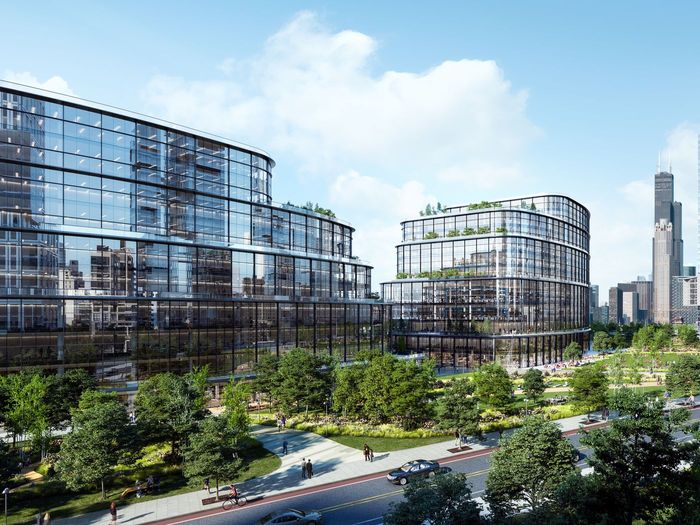 Chicago developers are making bold plays to turn long-vacant brownfield sites, obsolete industrial corridors, and underutilized historic buildings into sprawling megadevelopments. The recent push to "go big" represents a desire by developers to land big corporate tenants and provide the related housing, retail, and other needs in surrounding mixed-use campuses.
Right now, there are 13 major Chicago megaprojects in the works. Some are already under construction, while others are decades away from completion. Here's a look at the large, multiphase developments that will reshape the fabric of the city in the years to come.
1. Lincoln Yards
1405 W Cortland St
Chicago, IL 60614
Few Chicago developments in recent memory have received as much attention as Lincoln Yards: a $6 billion plan to turn 55 acres of industrial riverfront real estate between Lincoln Park and Bucktown into a sprawling mixed-use campus.
Here, developer Sterling Bay envisions 14 million-square-feet of high-rise buildings supporting 23,000 full-time jobs and 6,000 residential units as well as 21 acres of parkland, three new bridges, and an extension of The 606 trail. To help pay for the public infrastructure improvements, the company has a deal with the city to receive $1.3 billion in controversial tax increment financing (TIF).
No buildings are under construction yet, but Sterling Bay continues to work to reverse the environmental damage caused during more than a century of industrial use by steel mills, tanneries, and recyclers. The developer also installed new soccer fields on the site's western edge. The entire Lincoln Yards development is expected to take ten years to build.
Sterling Bay/Skidmore, Owings & Merrill
2. The 78
1364 S Clark St
Chicago, IL 60605
While Lincoln Yards looks to build a neighborhood from scratch on Chicago River's north branch, developer Related Midwest is planning to do the same on the south branch with its 62-acre mixed-use plan known as The 78. The massive project gets its numerical name from Chicago's 77 official community areas and aspires to grow that number by one.
Located between the South Loop and Chinatown, the development is approved for 13 million square feet of buildings—some rising as high as 950 feet—which are expected to house a combined 10,000 residential units and 24,000 workers. The site is also earmarked for a University of Illinois-affiliated innovation center and 12 acres of open space.
Before work on new buildings can begin, The 78 has its own set of TIF-supported infrastructure improvements that need to happen, including a realignment of the existing Metra tracks, a new riverwalk, an extension of Wells Street, and a $300 million Red Line station proposed for Clark and 15th Street.
Related Midwest
Read more at Curbed Chicago